Chiropractor
Robert Campbell D.C.
Dr. Robert Campbell grew up in Montclair, NJ and at the age of 18 attended the University of California-Los Angeles (UCLA) on a full athletic scholarship. As a member of the Junior National Gymnastics Team, he was a 3 time National Champion. He excelled at UCLA and was a member of the United States Men's Gymnastic Team. A pre-med major at UCLA, Dr. Campbell had a significant injury to his shoulder which had to be surgically repaired.
"Rehab was very slow and the 1988 Olympic Trials were coming fast..." One day, a UCLA football player suggested to Dr. Campbell that he try chiropractic. Desperate, he saw a local chiropractor in Los Angeles. "I made such large improvements, not only to my shoulder but to the rest of my body. I called home and told my parents that I decided on chiropractic school vs. medical school."
In 1993 Dr. Campbell graduated from the Los Angeles College of Chiropractic and then received his diplomate in Neurology from Logan College of Chiropractic. In 1995, Dr. Campbell opened Dunns Corners Chiropractic Center. His wife Sherry is also a Chiropractic Neurologist in West Greenwich, RI. They have 4 children- 1 boy and 3 girls.
Education:
B.S. Kinesiology UCLA
D.C. Los Angeles College of Chiropractic
D.A.C.N.B. Logan College of Chiropractic
Licensure:
Past and Present Memberships & Associations:
Council on Chiropractic Neurology
American Chiropractic Association
Misquamicut Business Association
Westerly-Pawcatuck Chamber of Commerce
Chiropractic Society of Rhode Island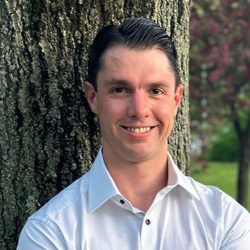 Chiropractor
Michael Macijeski D.C.
Dr. Macijeski was born and raised in Northfield, VT. Following graduation with a degree in chemistry from Wheaton College in Norton, MA, he studied at the University of Bridgeport College of Chiropractic after shadowing chiropractors in his community. He's eagerly applied his skills since then to help patients from all walks of life move and live their best through chiropractic care.
After excelling in his studies and graduating Magna Cum Laude from UBCC, he embarked on a career in healthcare that began in an interdisciplinary setting in Bennington, VT before relocating to Rhode Island. He has an enormous respect for the human body's ability to adapt and heal, striving at all times to offer the highest quality of care to his patients through chiropractic. He utilizes a combination of techniques uniquely tailored to the needs of each individual.
He enjoys the active and vibrant lifestyle offered by New England's ever-changing landscape, enjoying hiking, running, cycling and snowboarding and is passionate to help others continue the activities they love and reach their goals.
Chiropractor
Rob Campbell D.C.
Dr. Campbell was born and raised here in Rhode Island. Both of his parents are Chiropractors, so he has been immersed in the profession from a young age. He completed the Pre-Med program at the University of New England (Biddeford, Maine) where he met his wife, Lauren. Together, they went on to study Chiropractic at Life Chiropractic College West (Hayward, California).
After graduating as co-valedictorians in 2021, Dr. Campbell and his wife practiced Chiropractic in California and Montana before deciding to move home to New England to be close to family.
Dr. Campbell has taken an interest in the nervous system and decided to specialize in chiropractic neurology. After 300 hours of post-doctoral education, he is now a diplomate of the American Chiropractic Neurology Board. The more he learns, the more he is amazed by the nervous system's ability to adapt and heal the body when interference is removed. He is interested in combining specific chiropractic adjustments with the newest, state-of-the-art technologies to provide his patients with the best care they can receive.
When Dr. Campbell isn't in the office, you can find him on the local trails with his wife and Golden Retriever. The three of them love to hike and bike just down the road at Woody Hill.
---
Education:
B.S. Medical Biology / University of New England
D.C. Life Chiropractic College West
D.A.C.N.B. Carrick Institute for Graduate Studies
---
Licensure:
OFFICE HOURS
---
Monday
9:00am - 12:00pm
2:00pm - 6:00pm
---
Tuesday
8:00am - 12:00pm
2:00pm - 5:00pm
---
Wednesday
9:00am - 12:00pm
2:00pm - 6:00pm
---
Thursday
Closed
---
Friday
8:00am - 12:00pm
2:00pm - 6:00pm
---
Saturday
Closed